Five Strategies to Enhance Workplace Diversity
Diversity Starts at the Top
Foster an Environment Where All Voices are Heard
Eliminate Innate Internal Bias
Reflect Preferences or Needs at Workplace Gatherings
Enhance Anti-Discrimination Policies
Diversifying a workplace requires affirmative tactics and strategies. There are five particularly useful strategies that prove effective to foster a more diverse and inclusive workplace.
Related Resource: 30 Most Affordable Online Bachelor's in Human Resource Management
1. Diversity Starts at the Top
A more favorably diverse workplace really does start at the top. A diverse workplace necessarily needs to include people in management positions as well as amongst employees of a business more broadly. Thus, a concerted effort must be made to ensure a more diverse workplace throughout the hierarchy of an enterprise. When management is diverse, those in leadership positions are far more apt to advocate for and implement a diverse, inclusive work environment.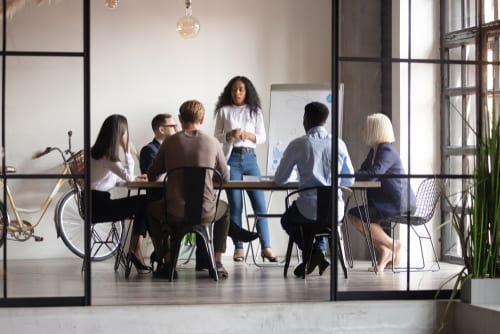 2. Foster an Environment Where All Voices are Heard
In considering tips to create a more diverse workplace, ensuring that all voices within a business fairly and consistently are heard is a vital strategy. The reality is that a workplace in which all employees believe they are heard is one in which fairness and equal treatment more broadly are likely to exist. Open communication channels works to enhance a diverse workplace. A key strategy that helps to ensure all voices are heard is a management team that maintains what oftentimes is called an "open door policy." When employees have ready access to the management team, inclusivity in the workplace is fostered and enhanced.
3. Eliminate Innate Internal Bias
The reality is that even businesses with proactive anti-discrimination and diversification policies can have lingering issues that are biased in some manner. For example, many a business uses evaluation forms that have been around for years. These forms very well and yet unintentionally may contain language that exhibits some type of bias. As part of a comprehensive commitment to make a workplace more inclusive and diverse, an associated "house cleaning" should occur. This process needs to include an examination of written documentation and materials that may have been around for a long time and in need of an update.
4. Reflect Preferences or Needs at Workplace Gatherings
Nearly all workplaces across the United States have different types of workplace gatherings, many of which are quite informal. These include such events as the celebration of birthdays and similar activities. Whist this might not seem significant on a list of tips for a more diverse workplace, it is important. A more inclusive workplace exists when the special preferences or needs of individual employees is recognized at these events. For example, people of different religious practices can have special dietary needs which should be acknowledged at these events.
5. Enhance Anti-Discrimination Policies
A sincere effort to create and foster a more diverse workplace needs to include the strengthening of a business' anti-discrimination policies, according to Harvard Business Review. Moreover, an evident management commitment to ensuring strong anti-discrimination policies in a particular workplace belays the commitment of the powers-that-be to a safe, fair, diverse work environment.
By employing these tips, a more inclusive workplace can be created. A more diverse workplace enhances productivity and fosters creativity. A diverse workplace is a pleasant environment with more content and enthusiastic employees.