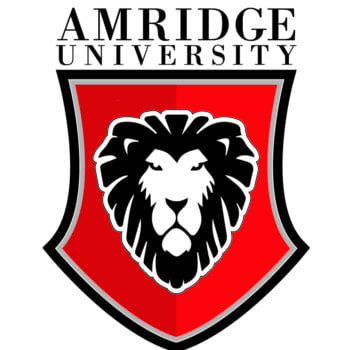 Human Resource Management at Amridge University
Amridge University is also featured in our ranking of the 30 Most Affordable Online Bachelor's in Human Resource Management.
Students who enroll in classes at Amridge University may choose one of two programs in human resource management that include the Associate of Arts in Human Resource Leadership and the Bachelor of Science in Human Resource Leadership. Students who choose the associate's degree can continue their studies in a bachelor's degree program or enter the workforce immediately after graduation.
Students who graduate from the Bachelor of Science in Human Resource Leadership may also enter the workforce with valuable skills after graduation, but they may also consider a graduate program to expand their skills even further. For example, some human resource management professionals choose Master of Business Administration degrees after receiving their bachelor's degree since it's common to find human resource management concentrations in MBA programs.
Students who enroll in the AA in Human Resource Leadership will need to complete 20 credit hours of general education, 20 credit hours of human resource leadership courses, and 24 credits of electives. Courses required in the AA program include Management Intervention, Introduction to Business, Microcomputer Applications, and Principles of Organizational Behavior.
Some of the possible careers available to students at the conclusion of the program include those of Human Resource Manager, Corporate Trainer, and Human Resource Specialist. Students can also join professional organizations like the Society for Human Resource Management or the American Society for Training & Development after they receive their degree.
For students who enroll in the BS Human Resource Leadership program, degree requirements include classes in mathematics, communication, science, and business. Required courses in business and human resources include Human Resources Management: Analysis and Procedures, Money Management and Personal Finance, Fundamentals of Effective Leadership, and Employment Law for Organizations.
Students must maintain a GPA of at least 2.0 throughout the program if they want to graduate with a bachelor's degree. The program requires 128 credits completed with at least 40 of those credits being earned at Amridge University. The university does offer transfer opportunities for students who have earned credits elsewhere. Students may choose to complete their degrees in human resource leadership through online study.
About Amridge University
Amridge University is a small school in Montgomery, Alabama, that has been in operation since 1967. The university was once known as the Alabama Christian School of Religion when it was founded and was established as a seminary to train students in Christian counseling. However, the university has expanded its focus into other areas since its founding. The campus in Montgomery covers nine acres, and the school has about 360 undergraduate and 350 graduate students attending.
On its campus, the university boasts just a single building where classrooms and the library are on the ground floor, and administrative offices are housed upstairs. The school is affiliated with the Churches of Christ denomination of Christianity. The university still primarily functions as a seminary with degrees offered in theology at every level of study, but the university has also offered other degrees in areas like business administration since the mid-2000s.
Amridge University Accreditation Details
Amridge University is accredited by the Commission on Colleges of the Southern Association of Colleges and Schools and first received this accreditation in 1989. The school initially applied for accreditation in 1985, and it would take four years for the review and approval to be complete. The university regularly undergoes reaffirmation of its regional accreditation each decade.
The school is also approved by the Alabama Department of Postsecondary Education to operate as a private school in the State of Alabama. The Tennessee Higher Education Commission has also approved the university for operations based on a review of its education, business practices, health, safety, and fiscal responsibility. The university's School of Theology is currently in candidate status with the Commission on Accreditation of the Association of Theological Schools.
Amridge University Application Requirements
All programs require a non-refundable $50 application fee, and students must have suitable technology skills to complete homework on computers. Students must also meet the GPA requirement for their intended program, as well as be able to provide transcripts from previously attended institutions. Associate's and bachelor's degree students must submit a high school transcript, and graduate students must show evidence of their bachelor's degree.
Steps required for admission include contacting the admissions staff for information about the application process, creating an official profile with the university's online communication portal, and submitting the official application. Students can fill out a transcript request form provided by the university to have their transcripts sent to admissions. Students can register for classes as soon as they complete their official online application.
Tuition and Financial Aid
The rate for each credit of undergraduate study at Amridge University is $250 for students who enroll on a full-time basis. The rate for a part-time study is $330 per credit. Students will also pay a comprehensive fee of $475 per semester and an estimated $150 per course for textbooks. The rates for the university's graduate classes are based on the degree program in which a student enrolls. For example, the rate for the leadership & management program is $650 for full-time enrollment or $750 for part-time enrollment.
Comprehensive fees for graduate students come to $675 per semester, and the university estimates textbooks will cost $200 per course. For students in the Master of Business Administration program, the rate is $600 for full-time classes and $725 for part-time classes. Meanwhile, programs offered by the School of Education and Human Services are $675 per credit for full-time enrollment and $750 per credit for part-time enrollment.
When students submit their official application for enrollment to Amridge University, they will provide information that the Financial Aid Office will use for the financial aid process. Students should also fill out their Free Application for Federal Student Aid (FAFSA) when they apply to the university, so they can qualify for participation in the federal student loan program. Students may qualify for need-based aid like Pell Grants, Federal Work-Study, or student loans.
Students should receive an email from the financial aid office after they complete their FAFSA submission. Students may need to submit additional information during the aid application process. Students can only qualify for one institutional scholarship from Amridge University, and the financial aid department will select the scholarship with the highest amount for students who qualify for more than one award.