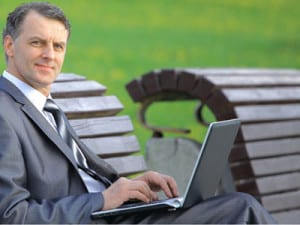 The advantage to earning an MBA in human resources through online study is that the experience offers working students a chance to earn a degree while remaining employed full time. The reputations of online educational facilities vary wildly, and when looking at schools that offer an MBA in human resources, it's essential to consider many factors before making an application decision.
Different Styles of Study Available
Some colleges exist primarily as an online venue for education and don't require a visit to the campus because there are no classroom facilities. For these institutions of higher learning, a student usually doesn't need to deal with any type of in-person meetings, orientations, or appointments. Sometimes a university may offer educational opportunities through distance learning and the internet; however, students often need to attend a campus orientation or interview at least once during their education.
Cost Not Necessarily Lower
One of the misconceptions about online education is that distance learning is cheaper. Although a student many not need to pay for "room and board" as part of the payments made to the college, tuition for online study often matches the tuition required of students who attend class on campus. Earning an MBA is often an expensive proposition, so students must be doubly careful in choosing an online college so as to ensure the investment for online study is worth the price.
Online Degrees Mimic Off-Line
One of the important questions a student must ask himself, before deciding upon an online school for an MBA, is whether the resulting degree will match the type that would be available in a classroom setting. Schools that have tapped the internet for online degrees have often made a point of ensuring that all classes required of an on-campus experience would also be listed in the online learning curriculum. This matching style of education is one of the reasons why tuition costs are often the same whether a student attends school online or offline.
Finding Employment with an Online Degree
One of the concerns of the average student is whether an expensive graduate education is worth the cost, and this concern usually intensifies when a student decides to consider online education. Recent data suggests that students who obtain an online education are starting to enjoy similar job placement numbers as students who graduate from a brick and mortar institution or attend study in classrooms.
Profit and Not-for-Profit Education Available
Online education has been popular with for-profit institutions since distance learning has enhanced the reach of those schools and the number of students enrolled, but brick and mortar institutions have also started to provide online learning opportunities to boost enrollment numbers. Colleges that have a physical presence somewhere tend to have a higher reputation than for-profit institutions; however, that sentiment is starting to equalize as students decide to take advantage of this alternative style of learning.
Related Ranking: Top 10 Best Online Human Resources MBA Programs
Major universities are aware that institutions that offer online education provide a valuable alternative for learning and have upped the ante by introducing graduate level study. The fact that lauded institutions have started offering degrees like an MBA in human resources management through online study means that educators believe online study to be a viable method for learning. However, just like any type of school choice, a student must investigate the program closely.
Related Resources: