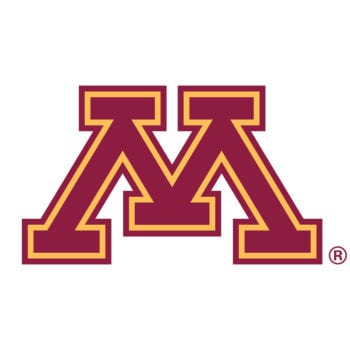 Human Resource Degrees at the University of Minnesota
The University of Minnesota is also featured in our ranking of the Top 10 Ph.D. Programs in Human Resources 2018.
Students at the University of Minnesota have two choices for undergraduate degrees when it comes to human resources: a Bachelor of Science in Human Resources Development and a Bachelor of Science in Business with a concentration in Human Resources and Industrial relations. The former includes 120 total credits with between 58 and 61 of them required to be part of the major area. Before entering this major, students must have completed 30 general credits and have achieved at least a 2.0 GPA. The latter degree also requires 120 credits to complete. From 73 to 78 credits must be business-related in the twin fields of human resources and industrial relations. This degree focuses on the management aspects of human resources, and students will spend the majority of their time at the Curtis L. Carlson School of Management. Both of these degree programs are traditional and classroom-based.
The three available degrees at the graduate level are the Master of Education in Human Resource Development, the Master of Arts in Human Resources and Industrial Relations, and the Master of Education in Work and Human Resource Education. These programs are also classroom-based. The first requires 34 credits to complete, and the second requires 48. The third involves 30. The Master of Arts in Human Resources and Industrial Relations includes a liberal-arts portion, which is why it takes longer to complete than the other two.
For professionals interested in a career in HR research, a Ph.D. in Organizational Leadership, Policy, and Development (Human Resource Development track) can be earned in three to five years of full-time study.
About the University of Minnesota
The University of Minnesota predates that state's entry into the Union by seven years. It began as a college preparatory school but closed its doors 10 years later after the Civil War broke out. Using funds allocated by the Morrill Land-Grant Act of 1862, it reopened in 1867 as the University of Minnesota. Since its inception, the mission of the university has been the pursuit of truth, which is held in higher esteem than just education. Indeed, researchers at the university are renowned for their integrity as well as their diligence.
The university is ranked No. 76 among National universities by U.S. News and World Report. The University of Minnesota's focus on management in all of its business-related degrees has borne the fruit of a No. 5-in-the-nation ranking for Management and Management Information Systems. Although not as high, the rankings for Best Value Schools and Best Schools for Veterans are in the top quartile.
The university is selective and accepts just about half of students who apply. The student-to-teacher ratio is 17-to-1, and more than 90 percent of freshmen indicate that they approve of the school and its philosophy by the end of their first year.
University of Minnesota Accreditation Details
The main campus of the University of Minnesota has had full accreditation from The Higher Learning Commission continually since 1913. Individual departments among the various campuses have also earned specialized accreditation from many accrediting bodies, far too many to list here in their entirety. A partial list includes the:
Association to Advance Collegiate Schools of Business
National Accrediting Agency for Clinical Laboratory Sciences
Accreditation Council for Occupational Therapy Education
Accreditation Council for Genetic Counseling
American Council for Construction Education
National Alliance of Concurrent Enrollment Partnerships
National Architectural Accrediting Board
American Society of Landscape Architects, Landscape Architectural Accreditation Board
Council for Interior Design Accreditation
National Council for Accreditation of Teacher Education
National Association of Schools of Music
University of Minnesota Application Requirements
Undergraduate students do not have to submit official copies of their transcripts or test scores on the SAT and ACT until after they are accepted, which keeps costs down for students. Once a student gains admission, however, the official copies are required. Students are encouraged to submit their Free Application for Federal Student Aid, or FAFSA, at the same time as their application because the university automatically considers all students for need-based aid immediately. At the undergraduate level, neither letters of recommendation nor essays are required.
At the graduate level, the application process might include letters of recommendation, statements of purpose, transcripts, a GPA of at least 3.0, and in some cases a 4.0, and a bachelor's degree from a regionally accredited American college or university. International students may apply with a bachelors degree from a foreign institution that has received its home country's version of regional accreditation. Some graduate degrees require either the Graduate Record Examination, Graduate Management Admissions Test, or the Miller Analogies Test. Students should consult the departmental subheadings on the University of Minnesota Website for further information regarding their choice of degree.
Tuition and Financial Aid
When it comes to in-state classification, the University of Minnesota has reciprocity agreements with the states of Wisconsin, North Dakota, and South Dakota and the province of Manitoba. Students from these locations are considered in-state when calculating tuition. Additionally, the University of Minnesota treats all undergraduate credit hours past 13 as free.
In-state undergraduate tuition is $6,529 per semester. Out-of-state tuition per semester is scheduled to rise each of the next three academic years. The progression is:
2020 and prior: $12,129
2021: $13,182
2022: $14,368
Graduate tuition, whether in-state or out-of-state, is not striated. The in-state cost per semester, full-time, is $8,532, and the cost for credits past 14 is $1,422 each. Out-of-state costs are $13,206 for full time and $2,201 per each credit past 14. The part-time costs are, per credit hour, the same as those for overage credits.
As already stated, the University of Minnesota automatically considers each prospective student for aid once it receives the FAFSA. Students might be eligible for all, some, or none of the need-based aid that is available, which includes scholarships, loans, and grants, which also include work-study. Students should feel free to pursue merit-based, private scholarships on their own but should realize that any merit-based awards could reduce their eligibility for need-based awards. The Office of Financial Aid will make determinations on a case-by-case basis.
The University of Minnesota provides students with a fine education, opportunities for global study and research, and a life-skill-building environment on the shores of the Mississippi River.