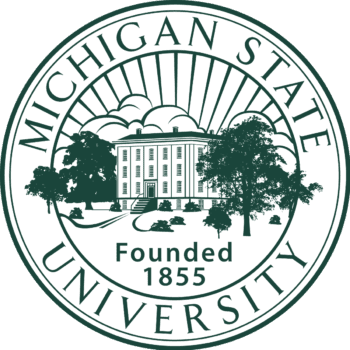 Five MSU Pathways to Human Resources Jobs
Michigan State University is also featured in our ranking of the Top 10 Ph.D. Programs in Human Resources 2018.
Since Fall 2017, the College of Social Science led by Dr. Rachel Croson has granted the 120-credit BA in Human Capital & Society at South Kedzie Hall for Michigan State University undergrads learning the complex nature of the workplace through a sociological lens. Chaired by Dr. Donald Conlon, the BBA in Human Resource Management follows a 123-credit, AACSB-accredited business curriculum with SHRM Chapter membership and 16-week internships like Ford Motor Company.
In East Lansing, the 36-credit Master of Human Resources & Labor Relations directed by Dr. Peter Berg, a Fulbright Scholar, admits cohorts of 15-35 into six concentrations, such as Organizational Change and Performance Analytics, for HRCI certification. The Eli Broad College's Full-Time MBA under Dr. Sanjay Gupta plots a 21-month Human Resource Management Track of 60 credits with one two-week May trip abroad from China to Czech Republic.
Fully funded, the five-year Ph.D. in Human Resources & Labor Relations advised by Dr. Tina Riley starts each August for advanced scholarly research at the Center for Integrative Studies.
About Michigan State University
Michigan State University originated on February 12, 1855, when Governor Kinsley S. Bingham authorized a bill funding the Agricultural College of the State of Michigan. Two years later, ex-Senator Joseph R. Williams welcomed its inaugural class of 63 men. In 1861, the Morrill Land-Grant Colleges Act bolstered the renamed State Agricultural College. Coeducational since 1870, Michigan Agricultural College admitted the first African American in 1899. During Dr. John Hannah's 1940s tenure, enrollment skyrocketed to 15,000 with returning WWII veterans. In 1956, the Labor & Industrial Relations Center opened on today's 566-building, Gothic-style Lower Peninsula campus. In 1964, the State Constitution was amended for the Michigan State University name. By 1991, KB Home and SunAmerica founder Eli Broad had donated $20 million total to its College of Business. The Master of Human Resources & Labor Relations was formally launched in 2006. Budgeting $1.39 billion, Michigan State University now employs 5,722 serving 50,351 Spartans from 141 countries online and on-site with 900+ clubs like Spectrum Consulting Group.
The U.S. News & World Report ranked Michigan State the 85th best national university, 49th best for vets college, 37th top business school, and 144th top value. On Niche, MSU has America's 23rd best student life, 31st best campus, 65th top business classes, and 85th top faculty. Times Higher Education placed Michigan State University 93rd globally. Forbes picked MSU 135th overall with the 54th most diversity and 73rd most research impact. Money magazine crowned MSU the 41st best buy for an average $104,000 mid-career salary. The Institute of International Education featured Michigan State eighth for studying abroad. According to Bloomberg BusinessWeek, the Full-Time MBA lands 25th among public universities. Poets & Quants named the Eli Broad College second for 90-day job placement. WalletHub also noticed MSU for the country's 161st best career outcomes.
Michigan State University Accreditation Details
On June 28, 2016, the Institutional Actions Council for the Higher Learning Commission of the North Central Association (HLC-NCA) voted to formally renew the Level VI accreditation at Michigan State University through 2026 under its 20th president, Dr. Lou Anna Simon, who earned the John DiBaggio Beacon Award for Leadership. Located 241 miles west via Interstate 196 in Chicago, the gigantic 19-state Great Lakes Region accreditor is authorized by the U.S. Education Department to continually monitor MSU's 161 baccalaureate, 155 master's, 130 doctoral, and 33 certificate offerings. Particularly, the Eli Broad College was reaffirmed by the Association to Advance Collegiate Schools of Business (AACSB) in April 2011. The College of Social Science is also approved by the Association for the Accreditation of Human Research Protection Programs (AAHRPP).
Michigan State University Application Requirements
Making it at Michigan State University is classified "moderately difficult" by Peterson's because just 25,860 of the 36,143 Fall 2017 applicants were okayed for 72 percent acceptance. Spartans seeking the BA in Human Capital & Society must finish their senior year with four units of English plus three units of Math and Social Studies. The Class of 2021 had a median 3.7 high school GPA. On average, freshmen achieved a 1215 SAT and 26 ACT score. Interested BBA in Human Resource Management students typically need 42-56 pre-major credits like MGT 250 with minimum 3.0 GPAs. The Graduate School only recognizes regionally accredited institutions for bachelor's study and GPAs above 3.0. Prerequisites for MHRLR cohorts are Behavioral Science, Statistics, and Microeconomics. Doctoral entrants should reach the 70th Verbal and 80th Quantitative percentile on the GMAT exam. Broad MBA students also present a median 674 score, but having at least 24 months of full-time experience is more important.
Michigan State University has freshmen deadlines of November 1st for Early Action and February 1st for Regular Decision. BBA in Human Resource Management transfers have rolling admission 8-12 weeks before the semester starts. The Master of Human Resources & Labor Relations has a priority January 15th date. Doctoral cohorts must apply before January 1st yearly. The Full-Time MBA has four-round reviews on November 4th, January 6th, March 3rd, and April 7th. Simply submit the MSU, Coalition, or Common Application online for $65 ($75 if foreign). Official transcripts are sent via Docufide or mailed to 426 Auditorium Road in East Lansing, MI 48824. During testing, apply institutional codes like 1465 (SAT) and 2032 (ACT). Other requested items include the 650-word personal essay, current résumé, three professional references, writing sample, and international tests. Please contact (517) 355-8332 or [email protected] with questions.
Tuition and Financial Aid
For 2018-19, Michigan State University has billed in-state B.A. in Human Capital & Society majors $14,522 annually. Non-resident undergrads pay $39,827 each year full-time. Foreign learners with I-20 status spend $41,327 yearly. Living at the East Lansing campus' dorms like Owen Hall adds $3,890 to $6,015 per semester for room and board. MSU budgets $1,108 for books and $2,972 for personal expenses. Medical insurance premiums are $1,687. Annual bachelor's attendance equals $30,110 in-state, $55,616 out-of-state, and $59,148 international. The Graduate School generally charges Michiganders $755 and non-residents $1,484 per credit. All online Human Resource Management & Development Certificate students pay $1,090 per credit though.
According to the NCES College Navigator, the Office of Financial Aid on Circle Drive gets 52 percent of MSU Spartans enrolled with median assistance of $10,928 for $224.09 million total. Business funds include the Union Pacific Scholarship, Ford Motor Scholarship, Boeing Scholarship, Kittie Handy Fuller Scholarship, Peter Ho Scholarship, Charles Fratcher Trust Scholarship, Howard O. Emorey Scholarship, Jennifer Mulder Bauer Scholarship, Ronald Barnes Undergraduate Scholarship, and Hibbert Family Scholarship. The Honors Excellence Scholars Program gifts $13,000 yearly to freshmen reaching the 33 ACT or 1500 SAT mark. Broad Full-Time MBA students receive up to $17,260 yearly for Peace Corps or AmeriCorps service. Pennsylvania and Ohio Spartan Grants deduct out-of-state tuition for at least $10,000 discounts. Submitting FAFSA applications coded 002290 evaluates Federal Pell Grant, SEOG Grant, Stafford Loan, and Work-Study eligibility. The Ph.D. in Human Resources & Labor Relations provides five-year assistantships with competitive stipends. The Michigan Tuition Grant, Children of Veterans Tuition Grant, and Michigan Merit Award also help.
Learn more about Michigan State University at the School of Human Resources & Labor Relations website.
Related Articles: