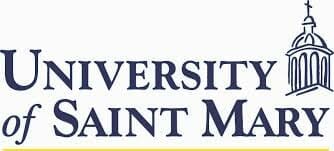 HR Programs at the University of Saint Mary
The University of Saint Mary is also featured in our ranking of the 50 Most Affordable Human Resource MBA Degree Programs.
The University of Saint Mary in Kansas offers two graduate degree programs in human resources and an undergraduate business degree program. Students in the undergraduate business administration program can choose between concentrations in marketing or management. The management concentration prepares students for working with employees to design benefit packages and to recruit new talent. Some of the classes that undergrads take include Principles of Finance, Legal and Ethical Aspects of Business, Human Resource Management and Entrepreneurship and Small Business Management.
Through the university's Master of Business Administration (MBA) program, students can choose a concentration in human resource management. It is available as an on-campus program that takes up to two years to complete, though some students graduate in just one year. Students take classes on weekdays between the hours of 6 and 9:50 pm. Those classes fit around the schedules of MBA majors. The university offers five start dates each year and allows students to take either one or two classes each term. In addition to a human resource management concentration, students can choose concentrations in general management, health care management, information security, and other areas.
Also available is an online MBA program with a concentration in human resource management. This and the on-campus program feature the same classes. Those in the HR management concentration will take Conflict Management and Negotiation, Training and Development and Organizational Change and Development. All MBA students must take nine business courses too that include Human Resource Management, Organizational Management, Global Management, Operations Management, and Strategic Management and Ethics. The University of Saint Mary helps students understand basic and advanced issues such as federal and state hiring laws and the benefits given to workers.
About the University of Saint Mary
The University of Saint Mary is a private university with a liberal arts curriculum. Established in 1923, it has an affiliation with the Catholic Church through the Sisters of Charity of Leavenworth. Those women came to Kansas in 1858 and established a small academic academy for both boys and girls. This school would later inspire them to open St. Mary's Institute in the city, which offered college classes for women. This school moved to a new location in 1920 and became St. Mary's Academy and later Saint Mary College. As a four-year college, it expanded the original curriculum offered and admitted men to a few programs. Most of the programs were for women only until the college became coeducational in 1988. This policy change also allowed men to take classes with women on the college's campus during the day. It adopted the University of Saint Mary after earning university status, though most call in Saint Mary.
Saint Mary now has its main campus in Leavenworth, which offers undergraduate programs and sits on more than 200 acres. A second campus in Overland Park is responsible for the university's graduate programs and offers a large number of evening classes for working and professional students. There is a third campus in Wyandotte County that offers classes in a large hospital and another campus in Shawnee that allows students to study art education at the graduate level.
University of Saint Mary Accreditation Details
All three of the HR management programs offered by Saint Mary have program accreditation from the International Accreditation Council for Business Education (IACBE). This same accreditation also applies to the other concentrations in the university's MBA program and all its other business programs. Saint Mary also has regional accreditation from the Higher Learning Commission (HLC). That accreditation is what lets students transfer credits and apply for the university's financial aid packages.
University of Saint Mary Application Requirements
Though Saint Mary does not require that graduate students submit their GMAT scores, it does ask that they pay a $25 application fee and submit the online MBA application. They need a minimum of a bachelor's degree and a cumulative GPA of 2.7or higher at the undergrad level. Saint Mary asks for official transcripts and a completed Academic Honesty Agreement. This paper states that students will do and submit their own work and that they will follow the academic rules of the university. Both online and traditional students should take four courses on business statistics, corporate finance, managerial economics, and financial accounting before they apply. Those who lack these prerequisites will need to take them before beginning either MBA program.
Undergrads applying to the university need a minimum high school GPA of 2.5 and a test score of 18 on the ACT or 970 on the SAT. Saint Mary requires an unweighted GPA but will admit students who took advanced classes and can even give them credit for some of those courses. An online system lets students create individual accounts and use those accounts to fill out the application and get an admissions decision from the university. They can ask that the testing board and their high schools submit their transcripts and scores for them.
Tuition and Financial Aid
MBA students pay $595 per credit hour in both the university's online and on-campus programs. Graduate students can apply for financial aid through the university and use the reimbursement programs offered by their employers too. Though Saint Mary does not offer any business scholarships, it offers resources for students that help them find scholarships from other organizations and groups. Students can also use unsubsidized loans to cover their costs. Those loans go to students who complete the FAFSA. There are alternative loan programs available for graduate students and their parents from private lenders too.
The FAFSA helps undergrads get financial aid as well. Saint Mary offers a number of scholarships and can award students more than $60,000 in aid every year. That aid is helpful because the university charges students $14,430 per semester for full-time enrollment. Part-time students pay $665 per credit hour when they take up to six credits and $945 per credit hour if they take six to 11 credits. Traditional students also pay at least $1,975 per semester for a meal plan and $1,875 per semester for housing on the campus. Students can use all other types of aid to cover their living expenses and other costs, including loans, work-study, and grants. The University of Saint Mary offers financial aid options for all of its HR management students.