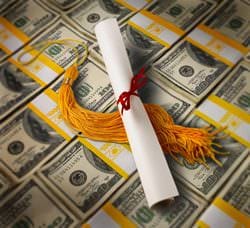 Students interested in continuing studies within Master's of Business Administration/Master's of Science in Human Resources (MBA/MSHR) programs must carefully consider the best educational programs and choose the best financing options to meet their specific needs and situations, such as HR MBA loans.  MBA/MSHR programs are costly, yet vital to students as they expand their education necessary for employment within a highly specialized, dynamic career. As many student acquire substantial debt while pursuing undergraduate and graduate degrees, finding the best sources to cover the cost of their education is imperative to long term personal and professional success.
Featured Top-ranked HR MBA Programs
[contentblock id=1]
Securing funding necessary to cover the cost of graduate education, through HR MBA scholarships, corporate or company sponsorships, savings plans, and educational loans from private and/or public organizations, is often difficult as many Federal assistance programs decrease aid availability. In response, a number of lending organizations have created HR MBA loans based upon assisting students to finance their education and minimize debt.
In selecting the best combination of financial options, students must carefully plan and research means of closing educational funding gaps while considering their present and foreseeable future financial situation. The first and most important step in financing education within MBA/MSHR programs is to understand the financial aid process. The Student Loan Network, guidance counselors, and on-campus financial aid counselors are valuable resources as students plan the best combination of financial options to cover graduate studies. Federal programs are generally a student's first option when financing a MBA/MSHR program. Students who are U.S. citizens and some international students determine personal financial standing and other economic factors by completing the Free Application For Federal Student Aid (FAFSA). Most students qualify for a number of Federal programs, including the Stafford Loan, to assist in covering educational expenses and then must supplement additional costs, like tuition and other education related expenditures, through various lending organizations with consolidation, alternative, or private HR MBA loans.
HR MBA Loans: Consolidation Programs
Consolidation programs are often beneficial and one of the most practical financing options as students manage the cost of undergraduate studies while pursuing their MBA/MSHR. Consolidation HR MBA loans are offered through a variety of private lending organizations and allow students to combine all student loans into one payment and reduce monthly repayment costs. Students must carefully consider the risks involved with HR MBA loans and only select providers with strong reputations, sound lending histories, and competitive interest rates.
Private and Alternative HR MBA Loans
Many MBA/MSHR students find private and alternative HR MBA loans are a great supplement to Federal student aid. Private and alternative loans are available to most students as they finance educational funding gaps. Private loans offer competitive interest rates, multiple repayment options, and rewards for timely repayment. Alternative loans have specific eligibility requirements, offer benefits similar to private loans, and generally have competitive interest rates. Private and alternative student HR MBA loans provide students funding for expenses beyond tuition and may be used for transportation, rental, and emergency costs.
Choosing the Right HR MBA Loans
Covering the gap between tuition, savings, and scholarship requires careful research of the different student HR MBA loan options available. Understanding the potential rewards and risks associated with student HR MBA loans helps students to make informed financial decisions which meet their immediate and long term financial needs. Students must always consider the total cost of all borrowing terms and select lending organizations experienced in offering student loans to maximize potential and manage the cost of their graduate education. Students must consider several HR MBA loan programs, the lowest interest rates based upon economic conditions, and any additional or service charges to select the best financing options crucial to their financial future before committing to loan agreements. Additionally, many students select lending organizations which offer special services for specific types of loans and financing options which postpone principle and/or interest payments until after graduation.
Careful research and comparison of lending options, HR MBA loans, financial aid packages, and savings plans helps students make the most of their financial situation, cover educational costs, and ensures every educational dollar is well spent.
Related Resources: