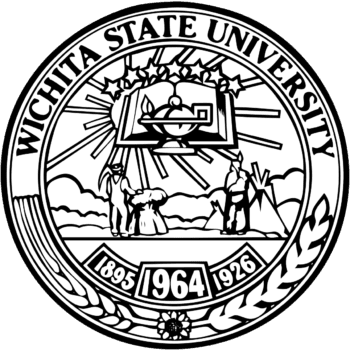 HR Degrees Offered at Wichita State University
Wichita State University appears in our ranking of the 25 Best Return On Investment Degrees in Human Resource Management (Bachelor's).
The W. Frank Barton School of Business at Wichita State University offers comprehensive professional human resource management (HRM) education through its Department of Management. In every degree program, the School of Business emphasizes the importance of real-world experience offering a variety of study abroad and internship opportunities as well as the Barton International Group which facilitates students working with large companies around the world without leaving campus. The Professional Edge prepares students for their job searches and the transition into professional life. In addition, the Barton School is planning a future move to a new building on WSU's Innovation Campus which was designed to encourage collaboration and offer additional internships.
The HRM education begins with the bachelor of business administration (B.B.A.) degree which, regardless of specialty, includes the business core. These nine courses provide a foundation in the field and include The Entrepreneurial Experience, International Business, and Strategic Management. The human resources major requirements consist of the five following courses plus two electives.
Fundamentals of Human Resource Management
Employment Law
Human Resource Staffing
Compensation
Training Development
All students must also complete a series of advanced standing courses which provide a background in economics, accounting, and business-related software. Upon graduation from the B.B.A. program with a human resources major, individuals have met all requirements for professional certification through the Society for Human Resource Management (SHRM). Undergraduates at WSU also have the option of minoring in HRM by completing 15 hours of advanced courses in the department.
At the graduate level, the Master of Human Resource Management (M.H.R.M.) is offered only through Wichita State University's online learning platform. The base program requires a total of 30 credit hours of study with the eight mandatory classes including Organizational Behavior, Talent Development, Rewards, Selection, and Employment Law. Each student then chooses an additional two courses from eight different electives based on their interests and goals. Students do have the option of earning two extra designations during their graduate study, the Human Resource Management Decision Making certificate and/or the Human Resource Management Skills certificate. Each requires five courses, many of which are incorporated in the 30-hour core curriculum. WSU offers undergraduate students the ability to enter an accelerated B.B.A./M.H.R.M. program in order to complete both degrees in as little as five years.
Another graduate option is the Master of Business Administration (M.B.A.) with an HRM concentration. At the beginning of this program, students need to complete a series of prerequisite courses covering introductory topics in business calculus, statistics, finance, marketing, management, and economics. It is possible to waive these courses if the student has already taken equivalent courses as an undergraduate or has significant work experience. The primary curriculum features 36 credit hours with courses covering a range of advanced subjects in business including Advanced Strategic Management which is taken in the final semester and provides students with a variety of case studies detailing how all previous coursework can be used in real-world scenarios. For the human resource management concentration, students choose three of five additional courses in the field. The required Management Information Systems and Managerial Economics classes provide applied hands-on learning experiences.
About Wichita State University
Located in Wichita, a college town in central Kansas, WSU began as a parochial preparatory school for girls in 1886. The school was next owned by the city of Wichita in 1926 and finally became part of the state university system in 1964. Today, WSU is one of the three public research universities in Kansas and enrolls over 15,000 students in more than 200 programs. The U.S. News and World Report has included Wichita State University on its list of Top Performers in Social Motility as well as the Best Online MBA Programs list.
Wichita State University Accreditation Details
Wichita State University is accredited by the Higher Learning Commission (HLC), the association responsible for assessing the quality of colleges and universities in 19 central states. The school most recently earned renewal in 2017 and will have its next review during the 2026/2027 school year. Accreditation verifies that the school meets all benchmarks in categories like Teaching and Learning: Evaluation and Improvement and Integrity: Ethical and Responsible Conduct. There are other institutions that just evaluate particular departments within a certain industry and provide accreditation to individual degree programs. At WSU, the business degrees are accredited by the Association to Advance Collegiate Schools of Business.
Wichita State University Application Requirements
Prospective undergraduate students must submit an online application, official transcripts, and ACT or SAT scores. Admissions requirements include either an ACT score of 21 or higher (or at least 1080 on the SAT-I) or rank in the top third of your high school class. Applicants to the online Master in Human Resource Management program must provide transcripts documenting completion of a bachelor's degree in any field with at least a 2.75 GPA in the most recent 60 hours of study. Individuals with lower GPAs have the option of submitting a high GRE or GMAT score to gain probationary admission. In addition, a personal statement is also required detailing the applicant's future career goals and reason for applying. For the M.B.A. program, future students need to provide GMAT or GRE scores unless they have at least 3 years of managerial experience or a GPA of at least 3.5 and either a WSU undergraduate degree or a business degree from an AACSB-accredited school. In addition, the application must include a personal statement, resume, and two professional or educational references.
Tuition and Financial Aid
Undergraduate tuition at Wichita State University is $223.62 for Kansas residents and $529.68 for out-of-state students which equates to yearly tuition of $6,708.60 and $15,890.40 respectively. For graduate coursework, the rates are $301.94 per credit hour for in-state tuition and $741.55 out-of-state. Out-of-state discounts are available to students at all levels from many states in the Midwest in addition to students whose parents are alumnae. The online credit hour rate is also $301.94 with an additional fee of $97.25 regardless of residency status. Both Wichita State University and the School of Business offer a variety of scholarships and grants to help offset costs.
Related Resources: