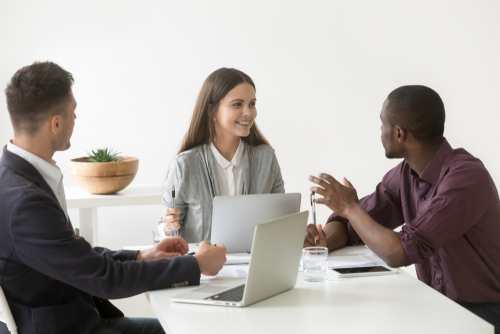 Organizational behavior management jobs that are available to those with a master's in organizational behavior are perfect for individuals who would like to combine their passion for business with their knowledge of human behavior. From working in human resources or training and development to working in employee relations or organizational consulting, the ideal job is waiting for organizational behavior grads. The organizational behavior management salary varies depending on position. The salary range for OBD jobs varies. A PhD organizational behavior salary is going to earn more than organizational development entry level jobs. Five of the most popular organizational studies jobs in this highly lucrative field are described below.
Related Resource: 50 Most Affordable Master's in Organizational Behavior Degree Programs
Human Resource Managers
One of the organizational behavior jobs are human resource managers. When many people think about possible careers for organizational behavior graduates, one of the first occupations that come to mind is human resource management. As top persons of human resource teams, HR managers oversee all work conducted in their department. They are also responsible for creating such things as:
proper codes of conduct for staff members
appropriate disciplinary methods and procedures
coordinating the recruitment of new employees
Other important tasks of HR managers include:
designing effective training programs
reviewing conflict resolution processes
ensuring that employment laws are followed
Training and Development Managers
Another of the organizational behavior careers that is available to persons with master degrees in organizational behavior involves training and development of employees. A training and development manager works closely with HR teams and top executives to determine what types of programs would help staff members become more productive. A training and development manager job description may include common daily duties such as:
planning and coordinating training and development programs
creating educational materials
maintaining training and development budgets
evaluating current training and development procedures
According to information provided by the United States Department of Labor, these positions are expected to increase by about 7 percent until the year 2031.
Employee Relations Managers
Another of the OBM jobs is employee relations managers. They are also among the many careers that are available to graduates with a master's degree in organizational behavior. Often confused with HR managers, employee relations managers focus solely on solving problems pertaining to individual staff members or the entire company team. They are responsible for a large variety of tasks including:
motivating individual employees and teams
implementing employee benefit programs
investigating complaints of discrimination and harassment
making recommendations to resolve complaints
It is also their job to maintain records pertaining to all HR relations issues. Strong written communication skills are important for this task.
Organizational Development Consultants
Other terrific careers that are available to graduates with master degrees in organizational behavior are organizational development consultants. The primary goal of organizational development consultants is to make sure that businesses are operating efficiently and profitably. They accomplish this by analyzing business processes and procedures, and making recommendations that could increase efficiency and productivity. Their job roles typically require a great deal of interviews with staff members, observation, and research. While many of these experts work independently, some choose to work for organizational consulting firms. Qualities of a high quality organizational development consultant may include:
strong organizational skills
time management skills
understanding unique perspectives
Job Alert: Entry Level Human Resources Jobs
Technology Consultants
Technology consultants is another of the organizational jobs in the area of organizational behavior consultant. A job is open to persons with an advanced degree in organizational behavior is that of a technology consultant.These professionals typically work independently or for consulting firms, and their main goal is to ensure that staff members are properly using available forms of technology while on the job. Other things they often examine are:
whether or not current technology needs to be updated
whether or not current technology is appropriate for particular businesses
whether or not new technology should be introduced (and old forms eliminated)
After examining a business' technology and processes, they then make recommendations to top management or executives.
Conclusion
Organizational behavior is an interesting field that offers many career opportunities and organizational behavior salary options. And for persons who are looking for organizational behavior jobs that are available to Master's in Organizational Behavior graduates, the careers described above may be just what they have been looking for.
Related Resources: