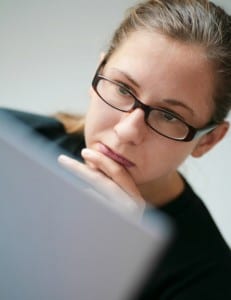 An HR MBA Online program is a good alternative for students who want to complete the requirements for an HR MBA, but cannot or don't want to study on campus. An online degree program allows students to study remotely and at his or her own pace. This type of program provides a good quality education for students who don't want to or can't commit to two years of full-time study.
Featured Top-ranked HR MBA Programs
[contentblock id=1]
HR MBA Online Overview
An online Masters in Business Administration program
offers courses online instead of going to a college campus. This method of learning is not for everyone, since it requires discipline to set a schedule for completing assignments each week. An HR MBA online program does give a student the flexibility to take on the course load which will work best with his or her work and family commitments. Some students choose to take only a few credits each semester, while others commit to a higher course load to finish the requirements for their degree sooner.
The courses offered as part of an online MBA program are similar to the ones which people studying on campus take. They are just as demanding as other Masters in Business Administration classes.
How a HR MBA Online Works
The classes are conducted electronically. Students log into an online platform to access their course materials. Books are forwarded to the student's home for each course he or she is enrolled in.
A person studying for an MBA with a Human Resources concentration is not doing so alone. He or she will be able to interact with his or her instructors and other students through a message board, e-mail or Skype. Students also get the experience of working on teams to complete assignments using these methods of communication.
Some programs have a residency component where students spend a set amount of time working on a project on campus. Participating in this part of the program allows students to interact directly with each other as they complete their assignment. These personal relationships can also provide opportunities for networking which can benefit participants after they complete their studies.
Who Can Benefit from a HR MBA Online
The HR MBA online is meant for people who want to pursue a degree on a part-time basis. Most students enrolled in this program are working full-time and do not want to take on the expense of a full-time program and take time away from the work force to study.
Cost of an Online MBA Program
Choosing to study online may not be less expensive than attending classes on campus. Each university offering a HR MBA online sets its own tuition rates. Students are responsible for paying for tuition, fees, books and materials. If the program the student chooses includes an on-campus learning module, its cost will reflect this component as well.
More Information about the HR MBA Online
A person who is interested in studying for an MBA with a HR concentration online can choose from programs offered by a number of educational institutions. One of the advantages to studying online is that the student doesn't necessarily have to live close to the school that he or she is attending.
Before making a final decision about which school to attend, a prospective student should do his or her homework to learn about the program to confirm that it is being offered by an accredited school and that the online MBA degree will be recognized by employers in the same way as an on-campus degree.
As studying at the post-secondary level remotely becomes more common, employers are becoming more willing to accept them. Some MBA candidates decide to focus their search for the right school to established institutions which have an on-campus program as well as an online program.
The decision of whether to pursue a HR MBA online is a major one. Prospective students should make a point of contacting the Admissions Office of the schools they are considering to ask questions about the curriculum, cost of the program and how online students access their course work. The school should also be able to provide some information about placement rates for graduates and the types of positions they were able to obtain after completing the program.
All of this information should be factored in when deciding whether pursuing an online degree is the right choice for you. Not everyone is able to consistently set aside time to work on his or her studies regularly without a set classroom schedule. For those who are able to manage it, studying for a HR MBA online can be an effective way for adult learners to continue their education.
Featured Top-ranked Master's in HR Programs
[contentblock id=2]
Related Resources: