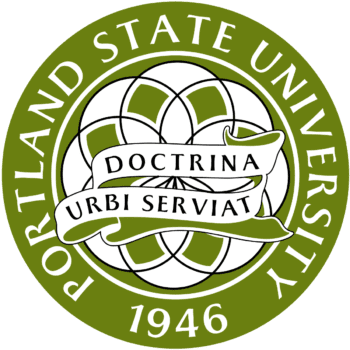 Human Resources Management at Portland State University
Portland State University appears in our ranking of the 25 Best Return On Investment Degrees in Human Resource Management (Bachelor's).
Students who attend Portland State University can choose from hundreds of degree options, with four of those programs offering degrees in human resources. The university houses its human resources curriculum options within its business degrees. Degree programs include an undergraduate business degree in human resource management, an online bachelor's degree in the same area, a graduate degree, and a graduate certificate program.
Students who want to study at the undergraduate level can enroll in hybrid, online, and on-campus options for maximum convenience. Students can join the local chapter of the Human Resource Management Association while enrolled, which can lead to networking and professional development opportunities. Enrollees also have access to hundreds of jobs and internships through the university.
Some of the topics under discussion within this human resources degree's curriculum include training and development, entrepreneurship, leadership, and negotiations & labor relations. Students will also learn about HR information systems, HR analytics, international management, and organizational change & design. Throughout the program, classes are offered during the day, night, online, and in hybrid formats.
Prospective students who already have a bachelor's degree may choose to apply to one of the two graduate programs in HR from Portland State University. Options include a Master of Business Administration with a specialization in HR analytics or the HR Analytics Graduate Certificate. Some of the environments where graduates have found work include those in financial management, entrepreneurship, executive business management, and human resource management.
The MBA program requires that students complete a total of 62 credits over the course of 21 months. Students can enroll as full-time or part-time degree seekers. Official content areas in the program include foundations of competitiveness, applied skills & leadership, and the value chain of business. Classes include those in finance, management, sustainability, and leadership.
Those who choose the HR Analytics Graduate Certificate route will take six classes over three terms in the fall, winter, and spring. Required classes include Introduction to HR Analytics, HR Metrics & Analytics in Daily Operations, and HR Data Visualization. Overall, the certificate takes nine months to earn.
About Portland State University
Portland State University was founded in 1946 and was meant to offer secondary education to veterans of the Second World War. The school would eventually become a four-year institution with a governing board of trustees. The university is in Portland and is the only public university in the state inside a metropolitan location. More than 28,000 students attend the university, which sits on a campus of 50 acres. The Carnegie Foundation classifies the institution as an R2: Doctoral University.
The school's official colors are white and green, and its students have the opportunity to play on 15 different varsity sports teams. Playing as the Vikings, the teams participate in NCAA Division I games as part of the Big Sky Conference. In the early 2000s, the school would undergo an expansion of its available degrees, as well as see additional facilities built for Native American students, as well as buildings for engineering and computer sciences students.
Portland State University Accreditation Details
Regional accreditation for Portland State University is granted by the Northwest Commission on Colleges and Universities. Successful accreditation means that applicants and enrollees to the university are assured an education delivered by a peer-reviewed institution of higher learning. In addition to institutional accreditation, which was reaffirmed in 2015, the university's programs are also accredited by various organizations.
For example, the School of Music and its programs are accredited by the National Association of Schools of Music. Similarly, the programs offered by the School of Theater & Film are accredited by the National Association of Schools of Theater. The university's graduate degree in architecture is accredited by the National Architecture Accrediting Board. The Council for the Accreditation of Teacher Preparation has accredited the programs offered within the College of Education.
Portland State University Application Requirements
Application standards for first-year students who want to attend Portland State University include graduating from high school with a minimum 3.0 GPA, taking the SAT or ACT, and making sure to complete at least 15 credits of recommended coursework in areas like English, science, and math. Students who do not earn a 3.0 GPA in high school may be considered for admission if they are able to earn a high score on their standardized tests.
Applicants who want to enter graduate programs at Portland State University will need to pay a $65 application fee, submit the official application, and send copies of college transcripts. Prospective students from international locations may need to submit evidence of English language proficiency. Some graduate programs may require other documents like personal essays, letters of recommendation, writing samples, or a portfolio.
Tuition and Financial Aid
Tuition at Portland State University is based on a student's level, as well as enrollment status, and residency status. For a resident undergraduate student, tuition and fees are $9,579 for the academic year. Non-resident undergraduate students will pay $28,410 for fees and tuition. Some students in adjacent states may qualify for Western Undergraduate Exchange (WUE) tuition, which is $13,617. Students who live on campus will also pay $13,611 for room & board.
For graduate students, resident tuition is $13,218 and non-resident tuition is $18,347 per academic year. The university also expects books and supplies to add $1,263 to the total. Room & board charges will run $13,611, which is the same rate that undergraduate students pay. Graduate students should also expect to pay some additional costs for miscellaneous personal expenses and transportation.
Students who want to qualify for financial aid will need to submit a FAFSA form, which the university will use to determine the student's eligibility for financial aid like loans, scholarships, and grants. Students will need to sign a Master Promissory Note to receive their first disbursement of loans, as well as make Satisfactory Academic Progress (SAP) throughout their college career to maintain eligibility and continue loan disbursements.
Students who demonstrate financial need for college may receive loans guaranteed through the federal government's official student loan program, as well as funds designed for students who are from Oregon. Students who are eligible for Federal Pell Grants may also qualify for a work-study grant where Portland State University will offer the student a job on campus.
Related Resources: