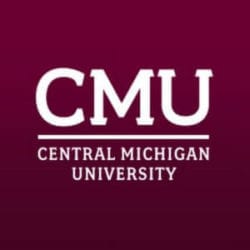 Four CMU Pathways to Human Resources Jobs
Central Michigan University is also featured in our ranking of the 50 Most Affordable Human Resource MBA Degree Programs.
In its $10.8 million Grawn Hall, the College of Business Administration grants a Human Resource Management B.S. in B.A. for Central Michigan University Chippewas called to develop satisfied, productive workforces for today's global economy. Chaired by Dr. Luis Perez-Batres, the 124-credit, AACSB-accredited major is available solely in Mount Pleasant with a 20:1 student-professor ratio at Niche's 257th best business college nationwide. Required 16-week courses like Industrial Relations, Personnel Evaluation, and Applied Statistics lead to the Lean Six Sigma capstone project. Undergrads usually join the on-site SHRM Chapter, which won Third Place at Michigan's 2018 HR Games. Other opportunities include pledging Alpha Kappa Psi, earning WorldatWork certifications, traveling abroad from Seoul to Santiago, minoring in Organizational Leadership, and completing the Capital City Internship Program.
Ranked 73rd nationally by the U.S. News & World Report, the CMU Master of Business Administration currently enrolls 501 post-grads with a median 3.3 GPA and 499 GMAT score for 11 concentrations, including Human Resource Management. Overseen by Dr. Karl Smart, the 36-credit, non-thesis option has May 15th and November 15th deadlines to strengthen executive skills for industry promotions. Broad 600-level courses like Marketing Management, Employee Selection, and Organizational Development are offered in Mount Pleasant or online via Blackboard. Financial aid, such as the Neighboring Regions Tuition Award and Diversity Fellowship, lowers the $625 per credit price. In 2017, Central Michigan University's CBA had 92.4 percent job placement at Dow Corning, Spectrum Health, Thomson Reuters, Enterprise, Consumers Energy, Schawk, Bartech Group, and more.
Directed by Dr. Neil Christiansen, an Industrial-Organizational Psychology M.A. is housed within the CMU College of Liberal Arts & Social Sciences at America's 226th top public university on Forbes for graduates interested in behavioral research related to human resources. The 39-credit, full-time curriculum lasts 24 months only in Mount Pleasant with a Concentration in Occupational Health Psychology that's optional. Dedicated to worker well-being, mandated courses like Job Analysis and Teamwork currently cost Michiganders $575 or non-residents $850 per credit. Second-year majors complete at least 200 clock hours at practica sites, such as Merek, Steelcase, Ford Motors, and Meridian Health. Access to cutting-edge research institutes, including the Center for International Ethics, and Psi Chi aids thesis work. Credits could also transfer into the Psychology Department's five-year PhD.
Since 1974, the College of Graduate Studies at Central Michigan University has offered the HLC-accredited Master of Science in Administration to over 10,000 Chippewas seeking an interdisciplinary approach to upper-level careers. Its 14 specializations include Human Resource Administration, Training & Development, and Project Management. The 36-credit, GRE-free applied action curriculum outlined by Dr. Patricia Chase requires minimum 2.7 bachelor's GPAs on $45 applications. The 4+1 Accelerated Program suits second-term juniors who've finished 86 credits with "B" cumulative averages. A maximum of nine credits can be transferred for the SHRM Certified Professional designation. Online courses like Succession Planning on the Global Campus add a 300-hour internship experience before the final portfolio. Note there's a standalone Graduate Certificate in Human Resources Administration of 15-18 credits too.
About Central Michigan University
Central Michigan University, abbreviated CMU, is a public research institution of higher learning residing in Mount Pleasant, Michigan, which is about 150 north of Detroit. It is among the largest universities in the state and one of the 100 biggest public institutions in the country. Its core values include integrity, compassion, respect, inclusiveness, social responsibility, innovation, and excellence. CMU offers over 200 programs at the bachelor's, master's, specialist, and doctoral levels through eight schools of education: College of Business Administration, College of Communication and Fine Arts, College of Science and Engineering, College of Education and Human Services, College of Health Professions, College of Humanities and Social and Behavioral Sciences, College of Medicine, and College of Graduate Studies. The popular majors include education, business, health, and fine arts. CMU is also home to nationally recognized programs in engineering, psychology, neuroscience, fashion merchandising, entrepreneurship, journalism, music, teacher education, and physician assistant education. It also offers more than 150 study abroad programs in over 40 countries. The student to faculty ratio is 21 to one.
Central Michigan University was founded in 1892 as the Central Michigan Normal School and Business Institute. It offered courses in business, education, and stenography, but its main mission was training future teachers. It started with 31 students. It became Central Michigan Normal School in 1893. The Michigan State Board of Education gained control of the school in 1895 and the name changed to Central State Normal School. Enrollment reached 450 students in 1898 and more than 1,000 graduates by 1906. The academic offerings continued to grow and become more comprehensive. The institution's first psychology clinic was founded in 1910. In 1915, the school gained accredited from the North Central Association. The first bachelor's degree was awarded in 1918 and the first graduate classes began in 1938. The name changed to Central State Teachers College in 1927 and Central Michigan College of Education in 1941. It became Central Michigan College in 1955 and finally Central Michigan University in 1959. CMU first started offering online courses in 1994. The College of Medicine was founded in 2009 with an objective to enhance access to superior health care in the state. Today, Central Michigan University is home to more than 23,000 students on its Mount Pleasant campus and nearly 9,000 students online. It also features more than 225,000 alumni. The U.S. News and World Report ranks Central Michigan University number 113 in its Top Public Schools publication.
Central Michigan University Application Requirements
Undergraduate
 Complete and submit the Application for Admission
 Pay the $35 nonrefundable application fee
 Submit official high school transcript
 Submit official transcripts from all colleges and universities previously attended
 Submit official SAT or ACT scores
Graduate
 Complete and submit the Graduate Application for Admission
 Pay the $45 nonrefundable application fee or other fee depending on the program and college
 Submit official transcripts from all colleges and universities previously attended
 Submit official graduate test scores, such as the GMAT or GRE
 Submit additional requirements for certain programs
Tuition and Financial Aid
Tuition
Undergraduate
 In-state full-time (15 credit hours): $6,255 per semester or $12,510 per year
 Out-of-state full-time (15 credit hours): $$11,835 per semester of $23,670 per year
Graduate
 Resident: master's/specialist-$575 and doctoral-$658 per credit hour
 Non-resident: master's/specialist-$850 and doctoral $940 per credit hour
Financial Aid
Central Michigan University offers scholarships, grants, loans, and work-study options to help students pay for their higher education.
Scholarships
CMU Scholarship
Centralis Scholarship Program
 Centralis Scholar Award
Centralis Gold Award
 Academic Excellence Award
 Academic Success Award
 Academic Prestige Award
 CMU Alumni Scholarship
 Legacy Tuition Award
Grants
 Federal Pell Grant
 Federal Supplemental Educational Opportunity Grants (FSEOG)
 Federal Teacher Education Assistance for College and Higher Education (TEACH) Grant
 CMU Grant
 Bureau of Indian Affairs Grant
Loans
 Federal Subsidized Direct Loan
 Federal Unsubsidized Direct Loan
 Federal PLUS Loan
 Federal Graduate PLUS Loan
Federal Work Study
The Federal Work-Study program is a federal option that assists students in paying for their educational expenses through on and off-campus employment. Students work on a part-time basis to earn money every other week. The pay is at least the current minimum wage but differs by employer, job position, and student qualifications.
The MBA degree enables students to gain the essential expertise to lead successful careers in their selected areas. Graduates of the Master of Business Administration in Human Resource Management from Central Michigan University are equipped with advanced skills in accounting, marketing, finance, and management, and they are prepared for leadership roles in today's international economy.
Related Articles:
Top 10 PhD in HR Degree Programs