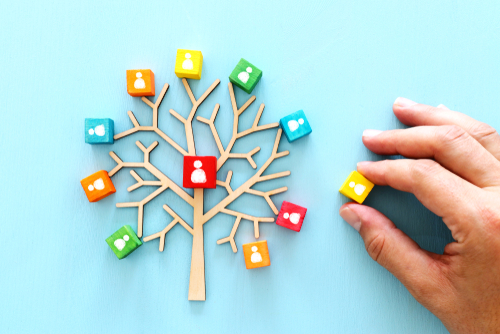 Strategic planning is a leadership tool used in the process of setting goals and objectives over a defined period of time.  It's a tool that executives and board members of for-profit businesses and not-for-profit organizations can use to guide their organization into the future.  But how do we define strategic human resource management planning? The human resource role in strategic planning is to align HR practices and policies with the overall goals of the organization.  Human resource management strategic planning creates a long-term plan for workforce management to ensure the right people are in the right roles and those people have the right skills and capabilities.  Strategic human resource planning should support organizational strategies.  We will provide an overview of the strategic planning concept within an organization and explain the specifics of human resource planning.
Strategic Planning within an Organization
Plans using a strategic method should focus on the whole organization. There are several approaches to creating a strategic plan, including:
goals-based
issues-based
organic or holistic approaches
According to the Free Management Library, many organizations use goals and vision-based planning. The first step in goal based strategic planning is to develop a holistic vision for the organization and its stakeholders which management wants to achieve in a defined time frame, usually from one to five years. Managers and directors then set defined, quantifiable goals within the time frame, and planning steps are articulated. Goals-based planning usually works backward from the future to the present to identify specific steps and benchmarks.
Issues-based planning takes a different approach from goals-based planning. Issues-based planning usually occurs in response to current issues. Instead of articulating a business or organization-wide vision across all departments and stakeholders, an issues-based strategic process will focus on immediate or easily foreseen issues. As an example, a business may learn of a new law that will require it to change significant parts of its operations. An issues-based plan will start in the present and identify objectives that can be achieved to successfully comply with the law while keeping a strong profit margin.
Basic Elements of the Strategic Plan
Strategic plans for any kind of organization, whether they are short-term or longer-term, involve an organization's basic mission or purpose. The strategic plan should also include organizational values and vision, which should be articulated by:
founders
executives
other stakeholders
The plans should also include an analysis of external factors influencing the organization, such as legal considerations or raw materials costs, as well as internal factors which are under the organization's control. Next, organizations should identify specific, measurable goals and match them with strategies or action steps which can help to achieve the goals.
Read: 50 Most Affordable Small Colleges for an HR Degree
Enacting the Strategic Plan
Whether or not the organization is a large business or a small not-for-profit charity, a strategic plan isn't very effective if it can't be achieved. Action planning includes writing down and monitoring the actions necessary to achieve each goal. In large organizations, divisions or departments will be identified. In smaller businesses, an individual may be responsible for the action steps. Budgeting is also crucial for a successful strategic plan. Each objective should have a monitored budget.
The HRM Strategic Planning Process
After assessing an organization's strategic plan, the HR leadership team comes together to create the human resources management strategic plan.  The strategic HR planning process identifies human resources strategic goals and objectives that align with those of the organization.  There are several steps involved including:
Environmental Analysis
SWOT Analysis
Gap Analysis
Developing HR Strategies
Implementation and Evaluation
Human resource strategy is the organization's long-term plan for managing staff in a way that aligns with company values. Integrating human resource management strategies to the organization's mission helps ensure success.  We'll explain how each of these steps are used in the strategic human resource planning process.
Environmental Analysis
An environmental analysis is the first step in the human resources planning process.  The planning team conducts an analysis of both external and internal factors that could impact the workforce.  These might include:
economic trends
labor market conditions
technology changes
SWOT Analysis 
HR strategy plans aren't effective if businesses or nonprofits don't take their abilities into account. Managers can identify which action steps will be most effective, and which strategies may be necessary by conducting a SWOT analysis. SWOT stands for:
Strengths
Weaknesses
Opportunities
Threats
The SWOT analysis should be completed from an HR perspective.  will show which parts of the organization can best achieve goals and objectives.  It and may also help to identify other objectives for improvement.
Once the analysis is complete, the planning team uses the information to forecast, or anticipate, future human resources needs.  They assess the current HR capacity, taking a look at the knowledge and skills of the current staff.  HR forecasting involves realistically estimating both supply and demand.
Gap Analysis
A gap analysis portion of the human resource planning process compares the current workforce capabilities to the projected needs.  It's important to determine whether there is a shortage or excess of skills or competencies.  Any gaps need to be identified.
Developing HR Strategies
An action plan is created to develop HR strategies once analyses are completed.  The HRM plan may include things like:
talent acquisition
employee retention
performance management
succession planning
diversity and inclusion
Implementation and Evaluation
The next step is to create an implementation plan that includes things like:
timelines
required resources
responsible parties
Once the strategic HR management plan has been implemented, it is important to monitor the progress and make adjustments when needed.  It is a good idea to evaluate the plan periodically to make sure the strategies are effective.  Setting metrics and analyzing data can help stakeholders determine if the strategies are having an impact on overall business performance.
Many people have heard the adage, "if you fail to plan, you plan to fail." A strategic HR plan can help the organization achieve its mission and goals while maximizing profit.  HR strategies can help companies of all sizes survive achieve their goals within budget.