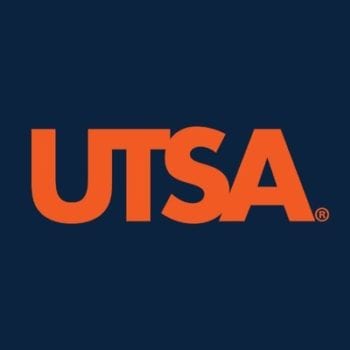 HR Programs at the University of Texas at San Antonio
The University of Texas at San Antonio appears in our ranking of the 25 Best Return On Investment Degrees in Human Resource Management (Bachelor's).
Through the Department of Management at the University of Texas at San Antonio, students can earn a Bachelor of Business Administration (BBA) in Management. This program features 42 semester hours of required management and business courses, including two math classes and at least one economics class. Students must take Academic Inquiry and Scholarship in their first year. This class helps them understand what the university expects from them and gives them tips on preparing for their later studies. Some of the classes that all BBA students will take include Business and Professional Speech, Principles of Accounting I and II, Principles of Business Finance and Introduction to Organization Theory, Behavior and Management.
BBA students have the option of completing a degree with or without selecting a specialty track. Those who do not choose a track will take 33 credits of business and management courses along with their required classes. The human resource management (HRM) track asks students to take the 33 required units of courses and another 33 units of HR management classes. They'll take Managing Human Resources, Designing Organizations, Understanding People and Organizations, Managing Human Resources for Competitive Advantage and Training and Developing Employees. The University of Texas at San Antonio provides students with a four-year outline or plan when they enter the program.
Also available is a Bachelor of Science in Construction Science and Management (BS in CSM) program. Though it doesn't focus solely on HR management, it does teach students how to handle and manage employees as they work in the construction industry. Majors must take courses from the CSM core that include Construction Materials and Management, Project Management, Construction Surveying, Construction Law, and Project Planning and Scheduling. They will do a summer internship too. Some of the courses that apply to HR managers include Logistics Management, Interpersonal Communication, Principles of Business Finance and Management Science and Operations Technology.
About the University of Texas at San Antonio
The University of Texas at San Antonio is a public university named after the large city of San Antonio, which is home to its campus. Founded in 1969 with an act of legislature, it received a large land donation the following year that it originally used for the university's campus. Though the university opened with just a graduate school, it quickly introduced programs for undergrads. Also known as UTSA, it grew significantly in the 1990s and again in the 2010s.
Now known as one of the best colleges of higher learning in Texas, UTSA has a campus in San Antonio, a second campus downtown and a third campus called Hemisfair, which is home to the Institute of Texan Cultures. That campus also puts on the annual Texas Folklife Festival. U.S. News and World Report included the university on lists of the nation's best schools and the best graduate programs in business. UTSA has an enrollment of more than 26,000 undergrads and more than 4,000 doctoral and graduate students.
The University of Texas at San Antonio Accreditation Details
UTSA designed its BBA in HRM program to meet the industry standards for professional managers. That program and the other business programs available have accreditation from the Association to Advance Collegiate Schools of Business (AASCB). Students can also use the regional accreditation that the university holds in several ways. That accreditation comes from the Southern Association of Colleges and Schools (SACS). SACS accreditation is why UTSA can grant credit to students who attended another university and give students financial aid packages. Students who complete the Free Application for Federal Student Aid (FAFSA) can get one of those packages.
The University of Texas at San Antonio Application Requirements
A special program called One Stop makes it easy for students to apply to UTSA. It shows them all admissions requirements and application steps they need to complete when they apply. Students who graduate in the top 25 percent of their high school classes receive guaranteed admissions. Those who finished in the top 50 percent need a minimum score of 1170 on the new SAT, 1100 on the old SAT or 24 on the ACT. Those who were homeschooled or have a GED must provide an official score. The university does not have a minimum test score requirement for those students. To apply, students must:
Create an account with ApplyTexas
Complete and apply through that website
Pay the $70 application fee or enter a code to use a fee waiver
Submit an ACT or SAT score
Send in an official transcript
The accounts they create on the website provide students with an ID that they can use to log back in later. They can log in to check on the status of their applications and to view the final decision made by USAT. USAT will use the system to update students when it receives their transcripts and test scores and if the university needs any other information.
Tuition and Financial Aid
Undergrads attending UTSA pay $749.46 for the first credit hour that they take, which includes the tuition rate and the university's fees. To take 12 credits and qualify for full-time enrollment, they'll pay $4,130.82 per semester. When they take advanced business and management courses, they must pay an extra fee of $55 per semester hour. The university offers a guaranteed tuition rate too. Students pay $4,466.82 per semester. Though this rate is higher, UTSA guarantees that their rates will remain the same as they take four years to work on their degrees. This will help them avoid tuition increases that usually happen every year. Students are also responsible for the cost of their living expenses, including room and board and school supplies.
The USTA One Stop hub allows students to view information on all the university's scholarships. They can apply by the priority financial aid deadline of January 15, but they must submit both a scholarship application and the FAFSA. With one application, they can apply to the general, distinguished and other scholarships available from USTA. USTA can also give students grants and other types of institutional aid. Through the FAFSA, students qualify for grants, loans, and work-study. Most of the students in human resource management and other management degree programs at the University of Texas at San Antonio qualify for financial aid.
Related Resources: