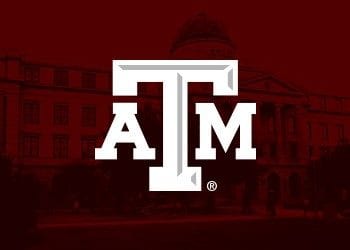 Texas A&M Human Resources Degrees
Texas A&M University is also featured in our ranking of the 20 Best Master's in Human Resources (Campus-based).
Texas A&M University offers multiple degrees in Human Resources. An undergraduate student at Texas A&M can receive a Bachelor of Science in Human Resources Development. A graduate student can seek a Master of Science in Human Resource Management from Mays Business School. Any student seeking an advanced degree in Educational Human Resource Development can pursue a Master's or Ph.D. from the College of Education and Human Development. Human Resources Development is also offered as a minor.
Undergraduate Human Resources students can expect to take courses that encompass typical business degrees, such as Business Information Systems Concepts and Professional Communication. Undergraduates will take courses specialized to the field like Globalization and Diversity in the Workplace, Conflict Management and Dialogue and Foundations of Human Resources Development.
Texas A&M provides classroom instruction as well as real world, hands-on training. Senior students are expected to take part in a Professional Internship that is worth six credit hours. Students who study on campus can also take part in the Texas A&M study abroad program. This program allows students to attend classes in an international setting. Students may travel to Belgium, Brazil, China, Ireland, the United Arab Emirates or Portugal, among many other destinations.
Those students who need a flexible schedule can study Human Resources at Texas A& through the school's Distance Education program. A Master of Science in Educational Human Resource Development gives students 37 credit hours of classes that are focused entirely on their field.
About Texas A&M
Texas A&M is a flagship university located in College Station, Texas. The school boasts the second largest student body population in the country with nearly 70,000 students in undergraduate and graduate degree programs. The university was the first of its type in Texas. It opened its doors in 1876 with the moniker Agricultural and Mechanical College of Texas. At that time, only white males were allowed to attend the school. Though the first female to graduate from Texas A&M did so in 1925, it wasn't until 1960 that females and minorities were officially allowed to enroll on campus.
Today, Texas A&M is known for its sizable endowment, reputation for research, vast athletic prowess and excellence in education. The school has repeatedly ranked highly on the national and global scale in terms of providing a quality education.
Texas A&M Accreditation Details
Texas A&M is accredited by the Southern Association of Colleges and Schools Commission on Colleges. The SACSCOC has provided accreditation for the university since 1925. This body accredits Texas A&M to provide undergraduate and graduate degrees.
Mays Business School, which houses the Human Resources Development program, is accredited by the Associate to Advance Collegiate Schools of Business. Mays Business School first received this distinction in 1972. The school undergoes reviews every five years to provide proof that those standards that are required for accreditation have been maintained.
The College of Education and Human Development maintains accreditation through the State Board of Educator Certification and the Texas Education Agency.
Texas A&M Application Requirements
Prospective undergraduates at Texas A&M must complete an online application. They must provide a personal essay, a high school transcript and an application fee of 75 dollars. Applicants must also provide ACT or SAT scores along with the application. Students may also upload letters of recommendation and resumes if necessary.
Undergraduate applications have tight deadlines that must be observed. The deadline for fall enrollment generally falls on December 1 of the previous year. Those who attend Texas high schools and rank in the top 10 percent of their graduating classes may qualify for automatic admission. Automatic academic admission students must rank in the top 25 percent of their graduating classes and achieve either 1360 on the SAT or a score of 30 on the ACT.
Students who fall outside of these guidelines may still be admitted to Texas A&M based on the quality of the admission essay, high school GPA, college entrance scores, awards, honors, and extracurricular activities.
Students applying for advanced education degrees must complete the online application, provide proof of a bachelor's or master's degree with official transcripts, provide GRE or GMAT scores and pay a 65 dollar processing fee. Prospective students also need to upload a statement of purpose, a resume or CV and letters of recommendation. Because deadlines vary for each department, students should contact the department head to find out when to submit applications and accompanying documentation.
Tuition and Financial Aid
Undergraduate tuition for an incoming freshman seeking a degree in Human Resources Development is about $6,100 for a Texas residents and about $19,000 for a non-resident. This cost covers one semester of 12 or more credit hours. These dollar figures apply only to tuition and not to the cost of room, board or classroom materials.
Graduate student tuition starts at a rate of about $5,000 for residents and about $10,700 for non-residents. Distance education students must pay a differential rate in addition to the base tuition fee. This rate varies.
Undergraduates who need tuition assistance have a number of options when applying to Texas A&M. All undergraduates should complete the FAFSA, or Free Application for Federal Student Aid. The FAFSA is the first form that most educational institutions and other bodies that award scholarships look at when determining need. The FAFSA can also help students qualify for federal grants. Texas residents should also complete the Texas Application for State Financial Aid for the same reasons. Grants and loans may also be available for graduate and distance learning students.
Students who encounter emergency situations that prevent them from paying tuition can access short-term or emergency loans. Not all students qualify as these are only to be used for tuition and related fees.
Texas A&M also offers scholarships to students that are based on academic performance and need. Scholarships can be used for tuition, room and board and study abroad experiences. Undergraduate students may receive automatic scholarships based entirely on academics and college entrance test scores.
Students who want to learn more about the Human Resource Development degree from Texas A&M can visit the program website.